If you are new to Half-Life or you just load it up and shoot some bad guys... you probably don't know what the 'Console' is.
It is a way of accessing features, settings, launching games etc. To access it, you have to enable it. That is fairly simple.
I'm going to presume you know how to make a shortcut to a file on your computer and that you know where you installed Half-Life to on your computer.
In this guide:
Commands: Will be like this.
To access the console:
1. Make yourself a shortcut to the Half-Life executable [x:\sierra\half-life\hl.exe] on your Desktop or wherever you want the shortcut to be.
2. Once the shortcut is made, test it by launching Half-Life.
3. Now, bring up the shortcuts properties. On the second tab [Shortcut] you should see something like this: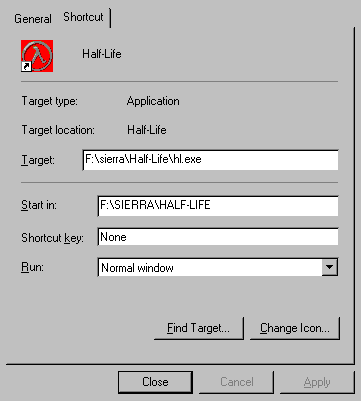 4. You need to add a new parameter into the Target: field. In the Target: field add the following: -console.
Your shortcut properties should now look something like this: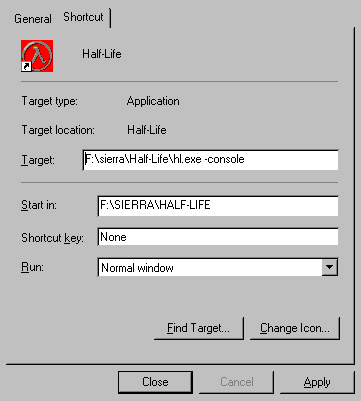 5. You can now click on Apply, the close and test out your modified shortcut.
Launch Half-Life with your 'console enabled' shortcut and you should see a new option on the main menu 'Console':
To enter the cosole just click on the button on the main menu. When you are in the game press the ` key to bring down the console.
You have now successfully enabled the console in Half-Life. Have fun using it.