If you are new to Half-Life - Opposing Force or you just load it up and shoot some bad guys... you probably don't know what the 'Console' is.
All you have to do is follow this guide. The only difference between this guide and the Half-Life guide is, you will add the -console parameter to an Opposing Force shortcut, not the Half-Life shortcut.
The Console is a way of accessing features, settings, launching games etc. To access it, you have to enable it. That is fairly simple.
I'm going to presume you know how to make a shortcut to a file on your computer and that you know where you installed Half-Life to on your computer.
In this guide:
Commands: Will be like this.
To access the console:
1. Make yourself a shortcut to the Half-Life executable [x:\sierra\half-life\hl.exe] on your Desktop or wherever you want the shortcut to be.
2. Once the shortcut is made, test it by launching Half-Life.
3. Now, bring up the shortcuts properties. On the second tab [Shortcut] you should see something like this: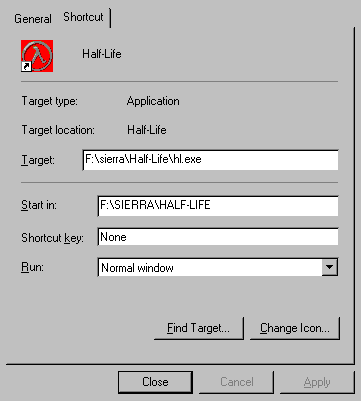 4. You need to add two new parameters into the Target: field. In the Target: field add the following: -game gearbox -console.
Your shortcut properties should now look something like this: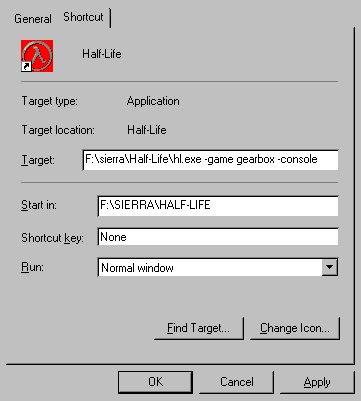 5. You can now click on Apply then Close and test out your modified shortcut.
Launch Opposing Force with your 'console enabled' shortcut and you should see a new option on the main menu 'Console':
To enter the console just click on the button on the main menu. When you are in the game press the ` key to bring down the console.
You have now successfully enabled the console in Half-Life - Opposing Force. Have fun using it.